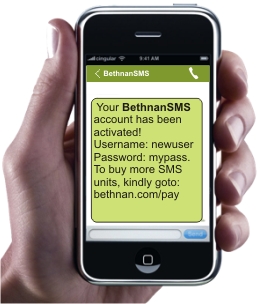 BethnanSMS Cost
N1.00/Unit
Sending from our center:
N3.50/message (1 page - 160 characters)
Register now and send for as low as N2.50/message
Messages to DND numbers on MTN & Airtel will NOT deliver at this time
---
Take advantage of our low cost SMS units now for your Wedding Announcements & Invitations, Events and Meeting Notifications and Invitations, Special Seasons Greetings, Political and Social Campaigns and Awareness, Product Launch and Sales Promotions, etc.

Registration is FREE and account does not expire. Save up to 60% of the regular cost of sending SMS through the regular channels by creating an account with us now. Enjoy the convenience of sending to multiple contacts. BethnanSMS is your ideal platform. Register now and get 10 SMS Units FREE.